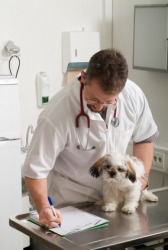 Animals share many of the same diseases and maladies as human beings, but even so, our animal pals have their own doctors and their own veterinarian medical terms to describe and help cure what's going on with them. You may find it useful, if you have a beloved pet, to become acquainted with some of the more common terms used by the veterinary profession when you take your pet in to be checked. It'll help you understand what's going on medically with your pet, and make you a better pet owner, and make your pet more trusting and comfortable in your care.
Itching Dog?
When human beings get an allergy attack, they cough and sneeze and feeling crummy. The same thing can happen to your canine pal, but instead of the coughing, sneezing and other typical allergy symptoms, your dog will start scratching.
Dogs get itchy when they are allergic to allergens, such as smoke, mold, dust or pollen. (They can have respiratory symptoms, but that's pretty rare.)
The term for the dog's reaction to external allergies is "atopy." If you pet suffers from seasonal itching and scratching, get him to your vet. That type of itching can cause a scratching cycle that can turn into hair loss, scabs, bleeding, and ulcers if it's not treated promptly.
Blinking Pets
Do you ever notice if your dog or cat blinks a lot and avoids looking at lights? If there's a discharge at the corner of the eye, your pet might be suffering from blepharospasm, a spasm of the muscle that contracts the eyelid.
Blepharospasm, one of such veterinarian medical terms, isn't a disease, per se. It's a symptom that there's something wrong with the eye. Such issues can quickly turn serious. Take your pet to the veterinarian promptly if the symptoms persist.
After Surgery Issues
If you pet has had any kind of surgical procedure, sutures were probably used to close the wound. A small or large incision still needs to be watched, even if it's closed. Any opening of a sutured wound is called "dehiscence."
It's particularly important to keep a sharp eye on a large abdominal surgical procedure. If it appears that the sutures are coming undone, call your vet immediately! Smaller such wounds, like the type your vet might make to remove a mole on a pet, should be cleansed and covered. Take your pet to the doctor at the first opportunity.
Dehiscence is just another of a myriad of veterinarian terms with which you should, as a caring and responsible pet owner, become familiar.
Other Causes of Itching?
If you notice your pet is scratching a lot, it could be fleas, or according to veterinarian medical terms, you pet could be suffering from pediculosis; that is, lice.
Human beings also suffer from lice (especially children), but of a different type than pets. Human lice are spread only among humans. Dog lice, for example, can only be transferred to other dogs.
It still isn't anything you want your poor pet to suffer from.
If you see any evidence of lice (or the newborn lice, called nits), contact your vet promptly.
Other Veterinarian Medical Terms
Do you have a female pet? The time during which she can become pregnant and deliver a litter on your doorstep is known as being "in heat." The medical term for this is estrus.
If you female pet is spayed, she will no longer go through estrus. This is critical so you don't add to the unwanted pet population that you have your dog spayed, and for male pets, neutered. (Of course this doesn't apply to pet lovers who breed purebred pets.)
You vet may administer an "emetic" if your pet ingests a poisonous plant or chemical. Emetics make your pet vomit, which is an attempt to clear his stomach of potentially harmful contents.
If you pet has issues with vomiting, your vet may administer an anti-emetic to keep him from puking.
You shouldn't administer either medication to a pet without your vet's say-so.