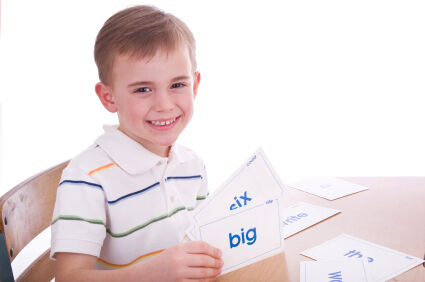 Flashcards for kids are a tried and tested study aid. The old-fashioned 3" x 5" index card remains a staple in the academic world because they aid in memory retention.
Are flashcards a good way to study? You bet! Together, let's explore the best tips for creating flashcards, consider online flashcards, and check out a free printable to bring all your vocabulary flashcards to life today.
Benefits of Working With Flashcards
Flashcards have proven neurological benefits.
They engage our brains in active recall, which is proven to create strong connections between neurons.
The act of self-reflection tends to make memories last longer in your brain.
Flashcards also create an environment for confidence-based repetition. Students can minimize the gap between the concepts they're familiar with and the concepts they're struggling to remember.
Here are a few more benefits:
Flashcards are a quick and easy method of study.
They're also cheap and easy to create.
Flashcards can be easily gamified. This extends the solo studying experience into healthy competition among friends.
They encourage repetition which, again, commits new ideas to memory.
Flashcards also promote focus when studying.
Tips for Making Your Own Flashcards
The act of writing out each word or definition via flashcard alone will help commit certain ideas to memory. Also, the rote memorization of using them is beneficial for all the cognitive reasons listed above.
Here are more tips on how to create a set of your own:
Integrate pictures and words on your cards. For example, if you're practicing vocabulary words in another language, sketch a little umbrella next to the translated word. This will turn sight words flashcards into easy opportunities for quick recall.
Only cover one topic per card. Whether you're quizzing yourself with full blown questions and answers or testing yourself on basic definitions, be sure to outline just one topic per card.
Break apart complex topics across multiple cards. This is a kind of reinforcement to the last tip. Say you're using flashcards to study a complex scientific concept. If ever you feel as though you're cramming a lot of words onto one card, see where you can break it apart into smaller concepts.
Read your cards aloud as you use them to study. Something about speaking your questions and answers aloud helps to commit the concepts to memory, similar to how the act of writing helps commit new ideas to memory.
Be repetitive. Since flashcards rely on repetition (and not context), be sure to use them in times when you can run through the stack multiple times. The more you quiz yourself with your flashcards, the greater the chance they'll help you be a success.
Create piles. As you go through your flashcards, place them into piles. It can be as basic as, "I know this one," "I don't know this one," and "I was a little uncertain on this one."
In a digital age where some people can't even find a pen on their desk, online flashcards are a great help. Millions of learners use them every day for a variety of reasons, from language learning to university coursework to studies of personal interest. And why not expand our memory banks while we wait in line at the DMV or the grocery store?
Online flashcards offer an exciting interactive component. Most databases allow you to connect with friends and share your flashcards too. There's no better feeling than being "in it together" when it's crunch time for a big exam.
Here are a few of our favorite online flashcard services:
Printable Sheets for Blank Flashcards
If you can prefer flipping through tangible index cards, don't worry. We've still got you covered! This printable sheet with a flashcard template can be used to handwrite your questions and answers. Again, that act of placing pen on paper does aid in the recall of new information.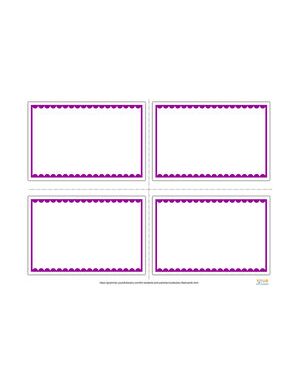 Whether you're a student, teacher, or lifelong learner, pairing flashcards with other context-based learning will help you achieve your educational goals. Make them as colorful and creative as you like. Add images to online flashcards or use colored pens, highlighters, and drawings on handwritten cards.
Here at YourDictionary, we have a wealth of premade word lists. You can use them to write and study endless arrays of flashcards. You'll find everything from adjective lists to sets of commonly misspelled words to lists of Shakespearean words. Whatever your fancy, feel free to start writing and memorizing today!