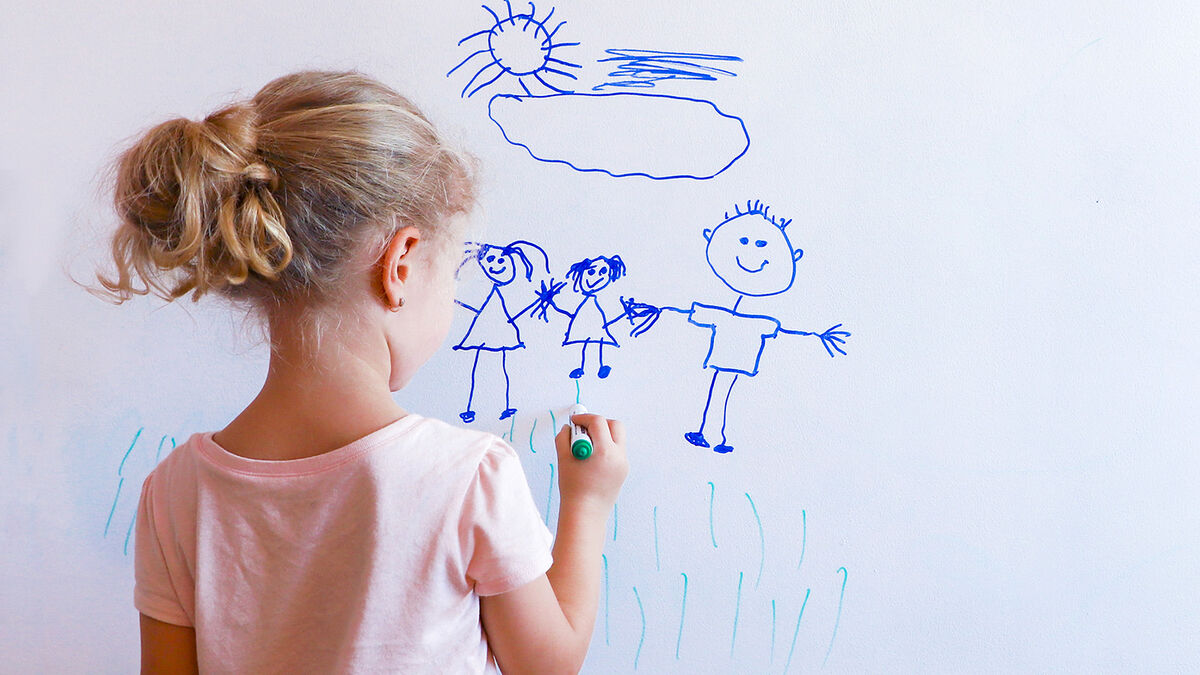 Pictionary is a great way to teach kids new words and keep them engaged. However, if you are playing Pictionary with kids of all ages, then you need to have diverse Pictionary words to cover all your age levels. Thankfully, you can find easy, medium, and hard Pictionary words for kids below to keep all your kids engaged in the fun. You can download our PDFs of lists to print and cut out.
Easy Pictionary Words for Kids
When you are playing Pictionary with little kids, it's nice to have words that are easy enough for your littles to use. These need to be pretty simple to draw and read.
When it comes to drawing games, there are words for things you might use all-around your house. Explore these easy household Pictionary word lists for kids.
ball
Bible
bikini
book
bucket
camera
church
crayon
fireworks
high heel
ice cream
cone
lamp
mailbox
recycle
sandcastle
stairs
tire
toothbrush
From the bee buzzing in your face to the butterfly you like to chase, find fun nature Pictionary words kids might use like:
bee
bird
butterfly
cat
dog
dolphin
elephant
fish
flower
giraffe
moon
night
ocean
rainbow
snow
snowman
spider
star
strawberry
sun
Some of the easiest Pictionary words for kids are related to humans and emotions. Find fun Pictionary words you might use like:
baby
beard
cry
ears
eye
eyes
face
glasses
happy
mad
man
mouth
nose
sad
woman
shirt
pants
Lots of food items are not only easy to draw but easy to recognize. Peruse a list of Pictionary words kids can use related to food.
apple
beans
burger
carrot
cheese
cherry
corn
donut
egg
popsicle
sandwich
spaghetti
taco
pumpkin
pizza
Easy Pictionary Words Printable
You can print this sheet of simple dictionary words and cut them out using the lines.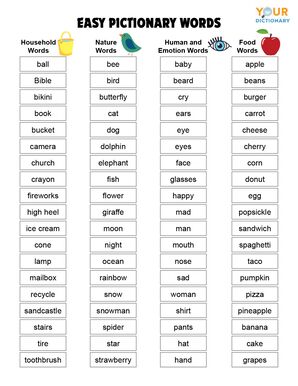 Medium Pictionary Words for Kids
You don't want to make playing the game of Pictionary too easy. Especially if you have kids that are a little older. To add a little challenge, you might want to try these Pictionary words for kids.
World or U.S. Associated Words
There are several recognizable monuments, items, and historical figures around the world. Here are just a few that you can use in your game.
Abraham Lincoln
Big Ben
Eiffel Tower
ferris wheel
flag
flagpole
Liberty Bell
Mount Rushmore
North Pole
pyramid
Statue of Liberty
subway
Words From Around the House
If you want to keep the words to those that you use every day but just add a bit more challenge, then you might try these medium challenging Pictionary words for the house.
baseball
book
bookshelf
clock
computer
desk
garbage
laptop
mailbox
pancakes
piano
pillowcase
sleeping bag
tent
watch
It isn't easy to draw a city or a farm. You also really have to think about the elements you'll use to make sure people guess correctly. Enjoy these scenic Pictionary words.
city
farm
heaven
hill
owl
playground
raindrop
sand
snowball
spring
storm
tadpole
wing
winter
There are some careers and people that are just recognizable. Use that to your advantage through these job and family words you might use in gameplay.
brother
doctor
father
fireman
grandfather
grandmother
lawyer
mother
nurse
police officer
postal worker
sister
student
teacher
truck driver
Medium Difficulty Pictionary Words Printable
You can print this sheet of dictionary words and cut them out using the lines for your next party!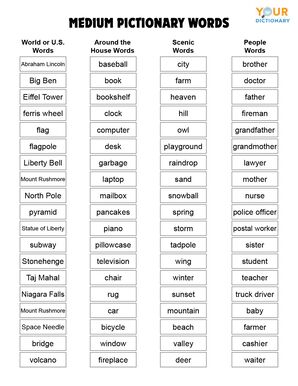 Hard Pictionary Words for Kids
The time has come. Maybe you need a tie-breaker or are just really looking to challenge your kiddos to the max. If that is the case, you've made it to the right place. Find several lists of challenging words to spice up your game.
You wouldn't think that school-related words would be some of the harder ones for kids to draw and guess. However, you'll have a hard time getting your friends to guess these.
alarm
assignment
calendar
dance
detention
dictionary
drinking fountain
eraser
failing
glue
homework
imagination
tardy
Ready for a challenge, step up to the plate of these difficult Pictionary words. Give these sports-themed words a whirl.
catcher
face mask
foul
hockey
homerun
ice skating
pitcher
shoulder pads
slam dunk
sunscreen
tackle
team captain
Space and Weather-Related Words
Even if you're quite creative, you might have a bit of difficulty trying to convey these hard Pictionary words for kids related to space and weather. They are really out of this world.
black hole
dark
dawn
full moon
Jupiter
morning
snowflake
solar eclipse
solar system
space
sunrise
sunshine
thunderstorm
Random Hard Pictionary Words
Just as it is hard to draw some of these words, it's also hard to classify them. Here's a list of words that are sure to be stumpers.
afraid
boring
closet
communication
falling
laugh
magic
pain
panic
pantyhose
peace
rock band
toilet paper
Wi-Fi
zombie
Hard Pictionary Words Printable
For a challenging game print this sheet of tricky dictionary words and cut them out using the lines.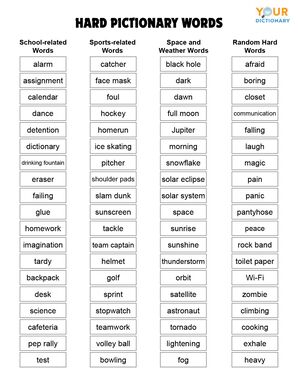 Finding Pictionary Words for Kids
When it comes to Pictionary, it is really a game the whole family can enjoy. However, it's always nice to have a good array of words, especially if you have wide age ranges in your kids. To keep the fun going, you can use these charades word lists for kids and grammar games!