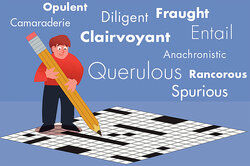 There are several SAT vocabulary word games out there to help students not only study for the exam, but also enjoy the ride. From flashcards to crossword puzzles, there are many ways to break free from the rote memorization that's sometimes helpful. Below, you'll find a few examples of SAT prep games to kickstart a prosperous season of studying.
Where there are vocabulary words, there are crossword puzzles. This is a classic where the clues have to be enough for students to guess the word in question.
You'll know if you've guessed the right word if the tiles line up in each game. From our list of the 100 Most Common SAT Words, here's a crossword puzzle that'll help students flex their SAT muscles.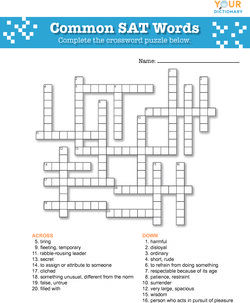 For SAT vocabulary practice, stick with the game that's lasted through the ages. In Grammar Hangman, things are taken up a notch. Instead of guessing a letter to complete a word, students can play a trivia version where each wrong answer results in a part of the man being drawn.
For example, you might write a series of sentences and highlight select words. Then, ask students to correctly identify the part of speech for the highlighted word. If they get a certain number correct, say three, they can move forward. If they get three wrong, then you can add a head or an arm and they'll be perilously closer to a hanged man.
To help you build a challenging game, check out this article on SAT Vocabulary Practice.
Consider how many hours per day we can spend on our computers or phones. The folks over at Prepscholar have provided five solid SAT prep games for students. One of them is particularly exciting; it's called FreeRice. Students must challenge themselves to answer questions correctly and fill up their bowl with rice. Every correct answer actually provides rice to someone in need.
Computer games can be practiced during solo time or as part of a team effort. Since technology isn't going anywhere, computer games will always be a viable solution when it comes to test prep.
Like Hangman and crossword puzzles, Jeopardy is a classic. Teachers, parents, and friends alike can band together to quiz each other in the game show's classic format. That is, the answer is provided and then the test taker must provide the question in the form of, "What is…" JeopardyLabs offers several premade Jeopardy boards to help students practice their skills.
The benefits of vocabulary flashcards are endless. They engage our brains in active recall, which is proven to make strong connections. They're quick and easy to create. And they can also be gamified to create some healthy competition among friends.
All you have to do is create a stack of words with the word on one side of the card and the definition on the other. Teachers can call on designated team members to answer questions or friends can quiz one another all afternoon.
In our article on Vocabulary Flashcards, we provide printable sheets for blank flashcards. Use it to handwrite your questions and answers. You'll also find several links to other great sites that'll help you create your own set today.
If you base your word scrambles on weekly or daily vocabulary words, then you can pull words from those lists and scramble the words either on the board or on a worksheet. The test prep experts over at PowerScore have developed word scrambles, sudoku, logic puzzles, and more.
These are just a sampling of all the ways you can make test prep fun. The SATs are an important season in life, so it's best to maximize it with every option available.
Once you or your students feel as though your vocabulary is in a strong spot, move on to the writing portion. These SAT Test Practice Writing Exercises are a nice place to start. From there, move on over to our Free SAT Writing Practice Test.