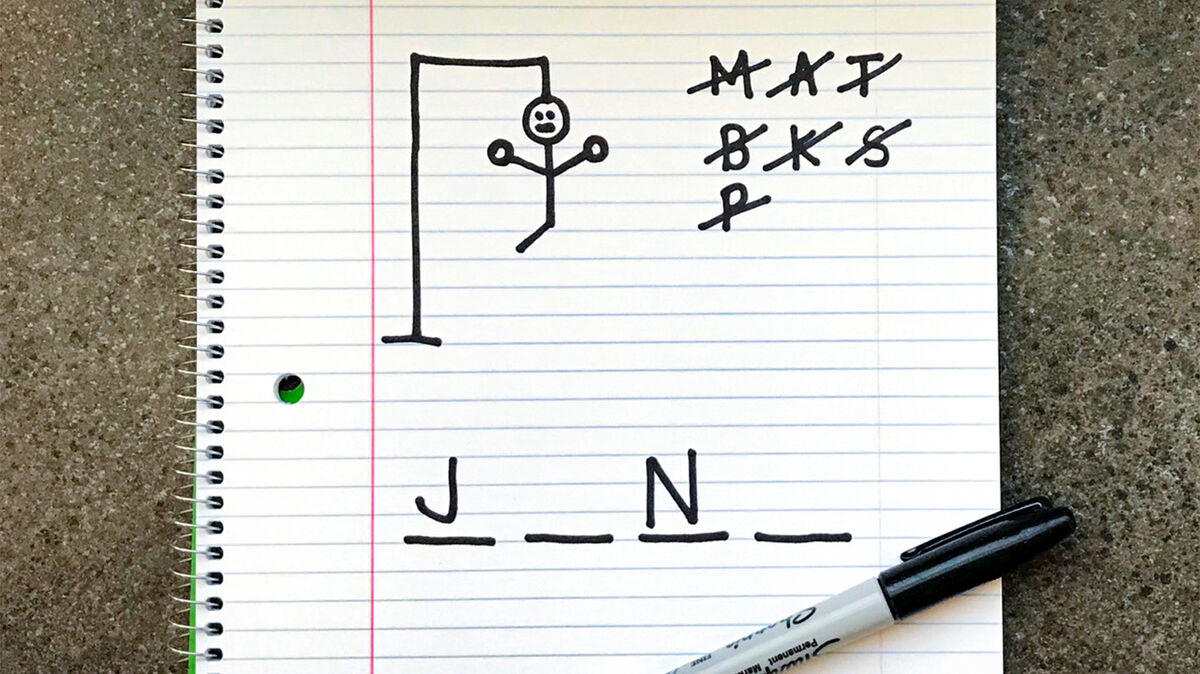 Nothing passes the time like a game of Hangman! But it's not much fun when the other person guesses the puzzle right away. Discover more than 160 hangman words and phrases for all ages, along with tips for choosing hangman terms that are both challenging and fun to guess. Use the included Hangman game template for hours of playing enjoyment!
Short Hangman Words That Are Hard
The key to making your Hangman word challenging is to give your opponent fewer chances to guess. That means choosing short words with repeating unusual consonants and minimal vowels (since players can technically guess all vowels in five to six turns). According to Reader's Digest, the hardest word to guess in Hangman is jazz.
Other short Hangman words include:
abyss
bubbly
buzz
buff
cozy
fluff
fluffy
fizz
fizzy
fox
jinx
lucky
puff
puffy
puzzle
quiz
shabby
zippy
Hangman Hints for Wordsmiths
If you're playing against a real logophile, you'll need to bring out the big guns. That doesn't mean you should play long words like antidisestablishmentarianism anytime soon! Remember: short words with lots of consonants are your path to victory.
chutzpah
crystal
fuchsia
gherkin
diphthong
kitschy
larynx
naphtha
psyche
quartz
rhythmic
synthetic
tmesis
zwieback
Need more ideas? Check out a list of words made primarily from consonants. They're perfect for your next game of Hangman or even Scrabble!

Fun and Challenging Hangman Phrases
You don't want to make your puzzle too easy by making it an everyday saying. There are lots of different phrases and idioms to choose from that don't repeat words. Try out these phrases in your next Hangman game.
blue in the face
ignorance is bliss
knee jerk reaction
a weight off my shoulders
my Achilles heel
cog in the machine
hold your horses
burning the midnight oil
the world's my oyster
don't muddy the waters
upset the apple cart
a bird in the hand
a bite at the cherry
a cast-iron stomach
batten down the hatches
don't beat a dead horse
point of no return
shiver me timbers
tell it to the judge
If you'd like to find more idioms, take a look at additional examples from around the world. Or check out idioms that originally came from famous works of literature.
Appetizing Hangman Phrases About Food
Words and phrases related to food and beverages can make great hangman phrases. Food idioms are great options to consider, as are the names of interesting dishes or drinks. You could even fit in some descriptive words for food.
al dente pasta
beef and cheddar sandwich

buffalo chicken dip
butternut squash soup
chicken and rice burrito
cool as a cucumber
deep fried butter
fried crawfish tales

frozen strawberry daiquiri
ham and pineapple pizza

hand-churned ice cream
herbal blend tea
hot and sour soup
piece of cake

pumpkin spice bread
raw cookie dough

raw oysters with crackers
roasted tomatillo salsa
shrimp and grits
slower than molasses
soft-shell crabs
strawberry flavored milk
Difficult Summertime Phrases for Hangman
There are lots of fun summertime activities that make great phrases for hangman games. You could also use these summer words to vividly describe the season to come up with your own phrases for the game.
beach volleyball tournament

camping in a recreational vehicle
deep sea fishing
dog days of summer

family camping adventure
floating on an air mattress

frequently apply sunscreen
fun in the sun
grilled burgers and hot dogs
going to the water park
hiking in the mountains
lazy days at the lake
lazy days of summer

movies under the stars
open fire cooking
prepare for hurricane season
run through the sprinklers
swimming pool safety

tend your backyard garden

take me out to the ballgame
Hard Movie Title Hangman Phrases
Movie titles are a great choice when you're looking for hangman phrases. If you want to challenge the other players, though, be sure to select older or more obscure titles rather than recent big-screen blockbusters.
A Beautiful Mind
A Beautiful Day in the Neighborhood
A Clockwork Orange
Bringing Down the House
Can't Buy Me Love
Chariots of Fire
Dora and the Lost City of Gold
Escape From Witch Mountain
First Wives Club
Here Comes the Boom
Night of the Living Dead
Some Like it Hot
The Art of Racing in the Rain
The Blair Witch Project
The Bridge on the River Kwai
The Cabin in the Woods
The Dark Night Rises
The Invisible Man
The Shawshank Redemption
The House With a Clock in its Walls
There are some quotes that practically everyone can recite from memory. But for those puzzles that need an extra challenge, you might want to pick more obscure quotes to guess. You can even add the speaker's name as part of the game! Try out these quotes that are just tricky enough to work.
Hard Hangman Phrases for Kids
Playing hangman can be a fun vocabulary-building activity for kids. The key is to select terms that they're likely to be familiar with, but that will still challenge young minds. The options below won't seem hard to most teens or adults but could challenge young readers or those just learning English.
after school activity
aunt and uncle

bedtime story
board game
booster seat
bouncy house
brother and sister
cartoon character

chore wheel
fire truck

hamburger bun

kids menu
mac and cheese

nap time
peanut butter and jelly
screen time
slumber party
skating rink
soccer ball
theme park

train ride
school mascot
Challenging Hangman Words for Senior Citizens
Word games like hangman make great cognitive activities for seniors. Use words that seniors are likely to be familiar with when putting together hangman games that they'll enjoy.
biscuit
butcher
camera
casserole
celebrate
drugstore
grandchild
lamp
library
magazine
market
mixer

postage
potluck
power
stove
supper
taxicab
telephone
television
Printable Hangman Template
Now that you have plenty of fun ideas to use in Hangman games, you just need an easy template to use for playing. Download the template below and print as many copies as you'd like. Play by any rules you know, or follow the instructions below.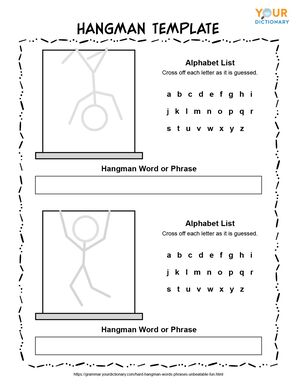 Instructions for Playing Hangman
If you need instructions, follow the basic instructions below.
The person who is choosing the Hangman word or phrase (Player 1) should specify the number of letters and words in the answer by drawing lines in the box at the bottom of the page (such as __ __ __ __ __ __ __ __ __ __ for "small child").

The player who is guessing (Player 2) should choose one letter at a time. Player 1 will tell Player 2 if the letter is in the word or not.

For each incorrect guess, Player 1 will draw in one body part (head, body, leg 1, leg 2, arm 1, arm 2, eye 1, eye 2, nose, mouth). When the drawing is complete, that means that Player 1 is the winner!

For each correct guess, Player 1 will write the letter in the correct blanks in the box at the bottom of the page everywhere it appears in the word or phrase.

Player 2 can attempt to guess the correct word or phrase at any time in the game. If Player 2 guesses correctly before the drawing is complete, then Player 2 wins!
Alternatives to Traditional Hangman
If you're looking for an alternative to drawing in a stick figure of a person, consider one of these options. Make sure to agree with your opponent on the number of pieces that will be drawn in, as that will be important to identify a game-winner.
flower - draw a simple flower, such as a tulip, with the stem, two leaves and three petals.
smiley face - consider a smiley face image, with a circle for the head, two eyes, a nose, and a mouth. To allow for more guesses, add on ears or hair.

car - another option would be to draw a side view of a car, with the body, two doors, two tires, an open hood, and an open trunk.

Get creative! Any relatively simple stick-figure sketch could work.
Choosing Challenging Hangman Words That Are Hard (But Fun)
The trick to creating Hangman clues and phrases is the same, no matter the players' age level: use fewer vowels and avoid repeated words. Players can guess every vowel in the first five (or six, if you count Y) turns, making the rest of the puzzle easy to solve. And if your phrase repeats a word, that's less work for your opponent to do. Remember, you only need to beat them in as many moves as it takes to draw the hangman!

If you don't want to use the words and phrases from these lists, you can make up your own Hangman phrases. Consider the best words to use when creating a Hangman puzzle. It might seem like longer words are your best bet, but if you want to win, you're better off with shorter words.

Building Vocabulary With Word Games
Playing word games like Hangman is an excellent way to increase your vocabulary. Not only do you get to learn new words, but you can also practice your spelling skills by guessing the correct letters. If you'd like more practice building vocabulary, check out these vocabulary games that are perfect for elementary and secondary readers.