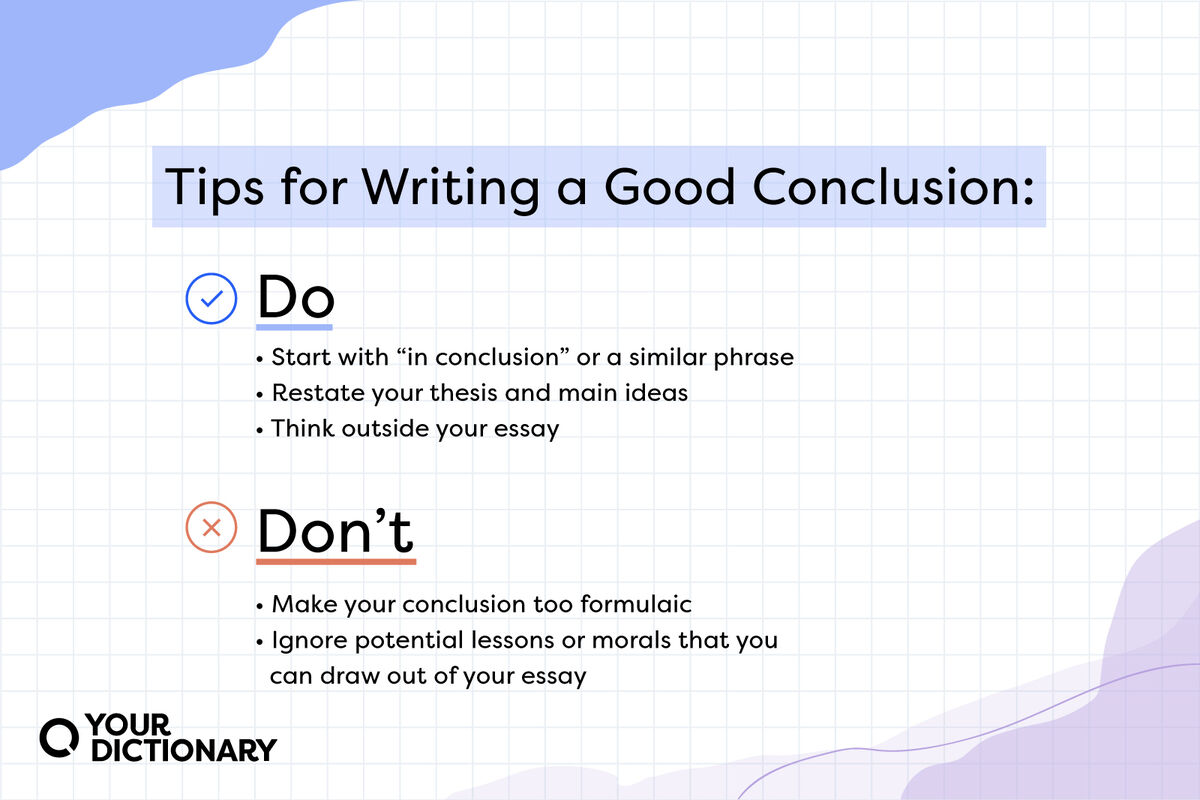 You've worked so hard on your essay, written the best introduction and body paragraphs known to humankind, and you're ready to leave it at that. Except every good story deserves a good ending, and essays are no different! You need a good conclusion paragraph to tie things up and send the reader off with new, happy thoughts. But what is a conclusion, and how do you write a good one?
In its simplest terms, a conclusion is the last paragraph of your essay after your body paragraphs.
The length of your conclusion can vary, but as with other paragraphs, as long as you keep it around five sentences, you're golden.
The actual components of a conclusion will vary depending on the essay type, but the standard conclusion will include:
A restatement of the thesis
A summary of ideas that you mentioned in the essay
Broader questions and new ideas that might come up in relation to your topic
That last bit is actually the most important part of the conclusion. It's where you get a satisfactory ending that has people wanting to learn more about the topic, from you or elsewhere.
Conclusions for Essays, Research Papers, Reports, and Beyond
For the most part, if you know how to write a conclusion for an essay, you know how to write conclusions period. You won't find too much variation between an essay and other papers, with some slight exceptions.
For example, conclusions for empirical research papers (the type that would get published in academic journals) are more succinct and narrow in their vision, avoiding the addition of any new information. These more scientific papers have their own form and structure with the "conclusion" folded into the discussion section.
How To Write the Perfect Conclusion
There isn't much to a conclusion, but that doesn't mean you can ignore it completely. It does take a little time and practice to get into the groove of conclusions, and looking at examples of conclusions or good conclusion starters can give you a solid idea of what to expect. With a few tips, you'll be concluding your essays like a professional in no time.
Start With "In Conclusion"
This is perhaps a controversial take. Some writers say that writing in conclusion is too robotic or unnecessary, but starting your concluding paragraph with in conclusion is actually good. 
For the reader, in conclusion signals that they have reached the end of the essay. For you, writing in conclusion can flip the switch in your brain to get into conclusion mode.
If you're not a huge fan of that wording, you have plenty of other ways to say in conclusion that convey the same idea. You're by no means required to use it, but it can feel like a softer transition compared to immediately restating your thesis.
Restate and Repeat Your Main Ideas
Part of your conclusion will involve repeating or restating your thesis and the main ideas of your essay. This mainly helps to remind the reader of why you wrote your essay and what you talked about. 
That might seem silly for a short five-paragraph essay, but if you wrote a 10-page paper, chances are pretty good that your reader might have forgotten what you wrote at the beginning of the paper.
Reiterating your thesis statement and main ideas also helps to tie things together. It's one thing to just present a thesis statement alone in the introduction. It's something else to consider it in the context of everything you talked about.
But Don't Get Too Formulaic
At the same time, try not to get too formulaic. That can leave you sounding robotic.
Instead of simply reiterating your thesis, think more about why your thesis matters now that you're at the end of your essay. How do your body paragraphs feed into that "why"?
Think Outside of Your Essay
You've spent days planning, researching, and writing the crux of your essay, so it might seem odd to try to think outside of your essay. That's the whole point of your conclusion. It considers that intense analysis and critical thinking and connects it to the rest of the world.
So how exactly do you think outside your essay?
Consider the "so what?" aspect. What's the point of your essay (beyond the fact that it was assigned to you)? Why does any of what you just wrote matter?
Think about the ideas and themes presented in your essay, and then consider how they apply to the world or to you personally in practical terms.
Is there something in particular that you found in your writing or research that really struck you? Call it out in your conclusion and consider why someone else might be interested.
Essays have the reputation of being academic, formal, and buttoned-up. There's nothing entirely wrong with that, but it can be part of what makes them difficult for someone to really dive into. The conclusion is a chance to drop that formality and allow for a little emotion.
Think of how bedtime stories end with some sort of moral. That can read as "cheesy" or "corny" in your essay, but it really just translates to levels of sincerity. Providing some sort of broad moral or lesson is a good way to end an essay. This is related to the above of thinking outside your essay, but it's also an opportunity to show your own voice as a person.