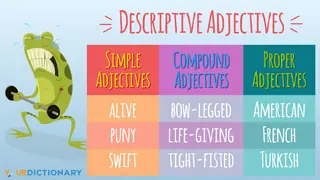 Developing a full list of descriptive adjectives for the English language would be a formidable task. Why? Because English is a language that welcomes modifiers with open arms. Just to keep it simple, explore some descriptive adjectives that are simple, compound or proper.
Adjectives are words that describe nouns. Specifically, adjectives describe the action, state or quality that nouns refer to. Descriptive adjectives are the largest class of the three most prominent types of adjectives. The other two main types being quantitative and demonstrative adjectives. Let's look at all three to see how they are different.
Descriptive adjectives work to provide information about a quality of a noun. In the sentence, "My beautiful friend is a model," the word beautiful is a descriptive adjective.
Quantitative adjectives provide information about a quantity of a noun. So, if you say, "She has many friends," many is a quantitative adjective.
Demonstrative adjectives emphasize the importance of the noun and whether it's near or far. In the sentence, "I want that vase," the word that is your demonstrative adjective.
To help you get a clear idea of the largest adjective group, take a closer look at some examples of descriptive adjectives.
An Organized List of Descriptive Adjectives
You can organize a list of descriptive adjectives into three categories to help writers and speakers better manage this large class of words. See a small sample of examples of each of three kinds of adjectives.
Simple adjectives, as their name suggests, are the most basic kind of descriptive adjectives. They function to express quality. These types of adjectives include those for describing feelings and emotions, the taste of something, and appearance. You might also use adjectives to describe sounds and time. Since this list is large, check out a small preview of simple adjectives.
| | | |
| --- | --- | --- |
| alive | ancient | bumpy |
| busy | combative | cotton |
| dangerous | dusty | elderly |
| expensive | graceful | granite |
| handsome | hollow | lazy |
| low | massive | melodic |
| minuscule | new | octagonal |
| oval | petite | puny |
| rainy | right | safe |
| sane | shrill | shy |
| sore | superior | swift |
| teak | terrible | tremendous |
| ugly | weary | wild |
Compound adjectives are created when two words are combined to create a descriptive adjective. The two words are typically connected with a hyphen. The table provides some common examples of compound adjectives.

| | | |
| --- | --- | --- |
| baby-faced | bow-legged | broken-hearted |
| bull-headed | candy-stripped | four-sided |
| freckle-faced | hard-hearted | hard-nosed |
| heavy-handed | high-heeled | ice-cold |
| left-handed | life-giving | long-legged |
| long-winded | next-door | pigeon-toed |
| red-blooded | self-centered | short-tempered |
| sure-footed | thin-skinned | tight-fisted |
A number of adjectives are derived from proper nouns. Nations, regions and religions are common qualities described by proper adjectives. Because they are derived from proper nouns, proper adjectives are always capitalized. See a few different examples of proper adjectives.

| | | |
| --- | --- | --- |
| American | Antarctic | Atlantic |
| Buddhist | Californian | Canadian |
| Chinese | Christian | Cuban |
| Ecuadorian | English | French |
| German | Greek | Hindu |
| Indonesian | Italian | Mayan |
| Mexican | Pacific | Peruvian |
| Roman | Romanian | Satanic |
| Spanish | Turkish | Victorian |
Printable List of Adjectives
Looking for more descriptive adjectives? Then you might enjoy this printable list of descriptive adjectives for a person.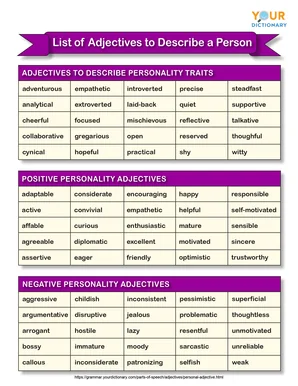 Putting Adjectives in Order
When using multiple descriptive adjectives in a sentence, there is an order in which you should arrange them. Adjectives that describe opinion typically precede adjectives that describe color, size, shape, and more. For example, the sentence "The ugly, red chair sat in the corner" is preferable to "The red, ugly chair sat in the corner."
In addition, adjectives are usually arranged in a sentence from those that are more general in scope to those that are more specific. For example, "The big, Egyptian mask hung on the wall" is preferable to "The Egyptian, big mask hung on the wall," and "The blue, silken curtains are perfect in the bedroom," is preferable to "The silken, blue curtains are perfect in the bedroom."
Using Adjectives in Writing and Speech
Writers and speakers can refer to a list of descriptive adjectives for ideas on how to better explain the action, state or quality that a noun in a sentence refers to. Understanding that there are three main types of descriptive adjectives can provide further insight into how these important words can be used.
With a good descriptive adjective resource and a little creativity, you can begin to add more personality to your writing. Speaking of which, enjoy examples of personality adjectives. It might help bring your characters to life!