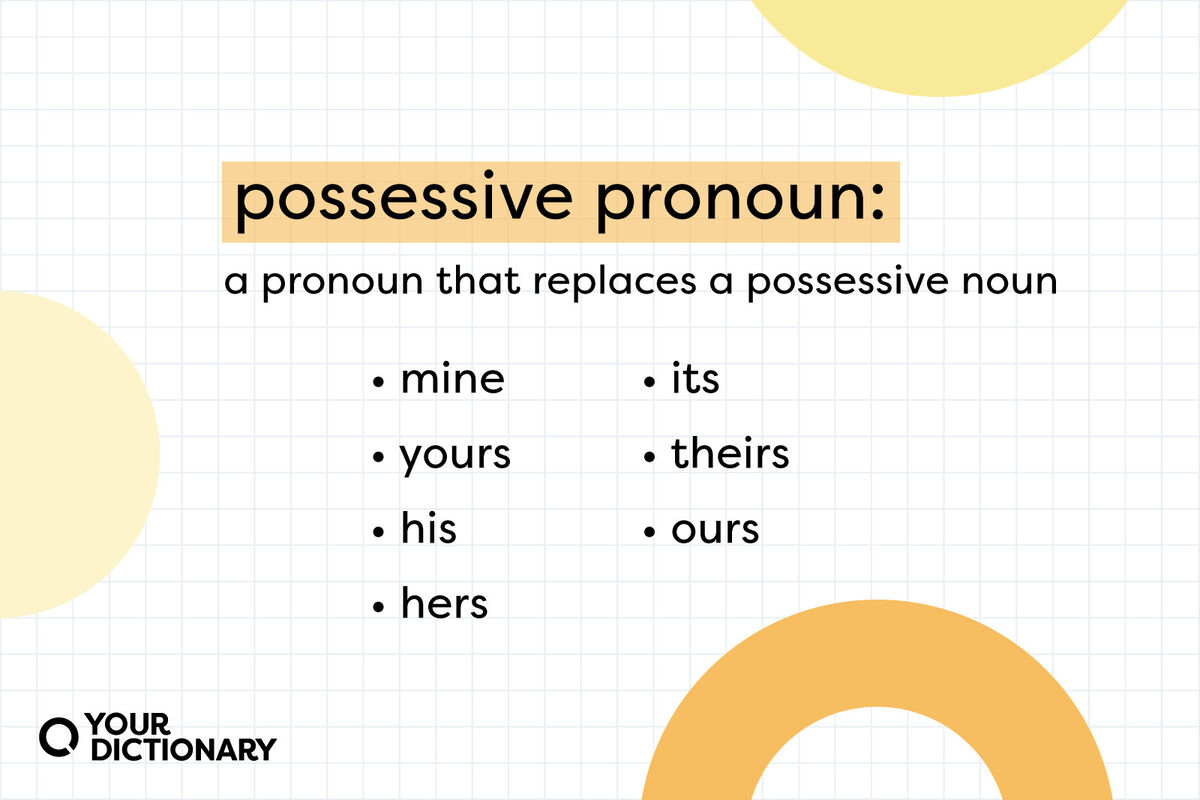 What's mine is yours, and what's yours is mine. But what about hers, or ours, or theirs? When it comes to establishing ownership over your stuff, you want to use just the right word. That's where possessive pronouns come in handy.
What Is a Possessive Pronoun?
Possessive pronouns replace possessive nouns to show ownership in a sentence. The possessive pronouns in English are mine, yours, his, hers, its, theirs, and ours.
Please don't move that car. It's mine. (Mine replaces my car)
That jacket belongs to Ed. It's his. (His replaces his jacket)
Have you seen a brown dog? He's ours. (Ours replaces our dog)
Give this ball back to Melody and Pam. It's theirs. (Theirs replaces their ball)
Possessive Pronouns vs. Possessive Adjectives
Like all pronouns, possessive pronouns replace nouns. But many writers mistake them for possessive adjectives (or determiners) — words that describe nouns.
Possessive pronouns, also called "absolute" or "strong" possessive pronouns, replace nouns to avoid repetition. They can stand alone in a sentence.
Possessive adjectives, also called "weak" possessive pronouns, are my, your, his, her, its, our, your, and their. They function as determiners in front of a noun to describe who something belongs to. They can't stand alone in a sentence.
Try using some of these possessive pronouns in your own sentences. Notice that some possessive pronouns and possessive adjectives are the same, such as with his and its. However, in most cases, the word you choose depends on how you're using it.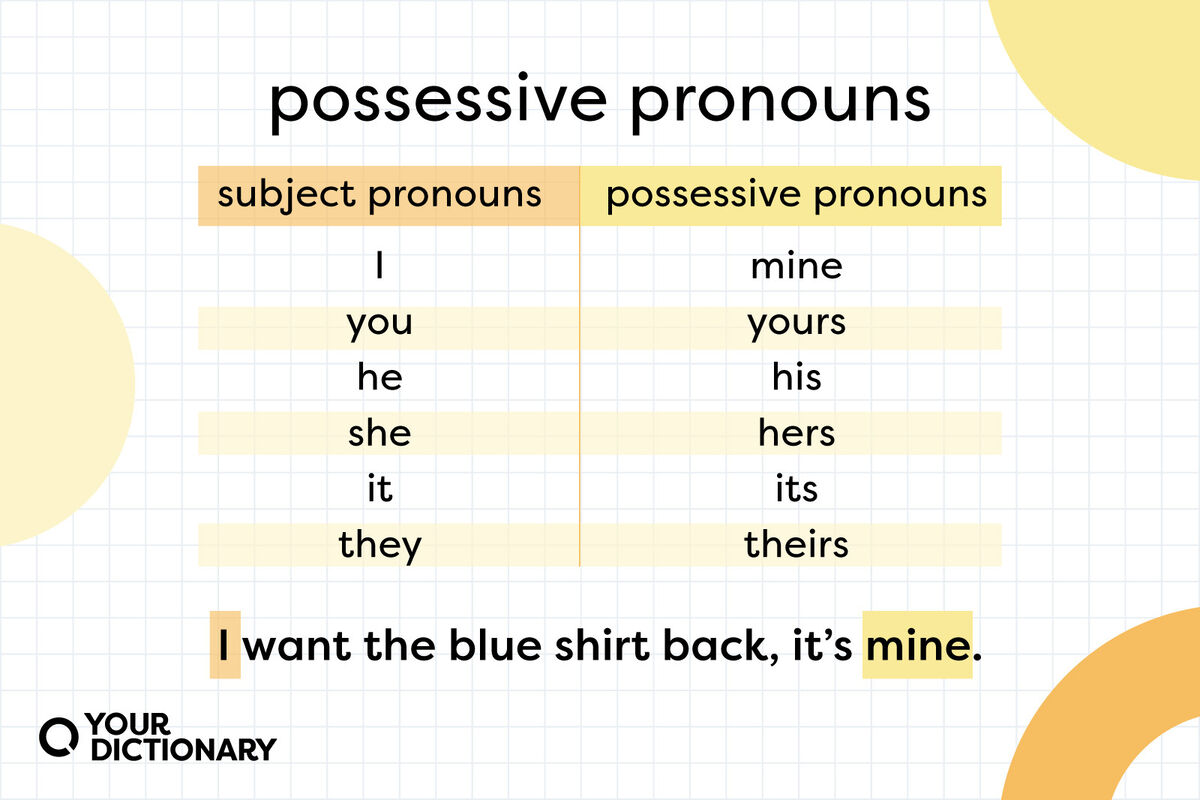 Examples of Possessive Pronouns
Possessive pronouns help you be more concise and use fewer words when explaining the same idea. Look at the examples below, and see if you can understand one sentence better than the other:
Those are my Converse sneakers. They are not your Converse sneakers.
Those are my Converse sneakers. They are not yours.
I didn't have my textbook for English class, so Brian lent me his textbook.
I didn't have my textbook for English class, so Brian lent me his.
Your travel plans sound just as exciting as my travel plans!
Your travel plans sound just as exciting as mine!
Sentences With Possessive Pronouns and Possessive Adjectives
Practicing with possessive pronouns is the best way to familiarize yourself with them. Check out these examples that use italics for possessive adjectives and bold for absolute possessive pronouns.
Your cat is adorable, but not as cute as ours.
My pen won't work, can I borrow yours?
Jim burned his dinner, so he asked Tina if he could share hers.
Can you find the possessive pronouns in the sentences below?
His paintings were very colorful, but I liked hers better.
My eyes are the color blue.
I like listening to Bruno Mars more than Michael Jackson, but his dance moves are more iconic.
You can't take that sandwich; it's not yours.
Is that new car ours?
Please don't touch her notebook.
If you'd like more practice with possessive pronouns and adjectives, take a longer pronoun quiz to test your skills. You can also play a few pronoun games for a fun review activity!
Answer Key for Pronoun Quiz Questions
His paintings were very colorful, but I liked hers better. (Hers is a possessive pronoun; his is a possessive adjective in this sentence)
My eyes are the color blue. (None - my is a possessive adjective)
I like listening to Bruno Mars, but our dance moves are better. (None - our is a possessive adjective)
You can't take that sandwich; it's not yours. (Yours is a possessive pronoun)
Is that new car ours? (Ours is a possessive pronoun)
Please don't touch her notebook. (None - her is a possessive adjective)