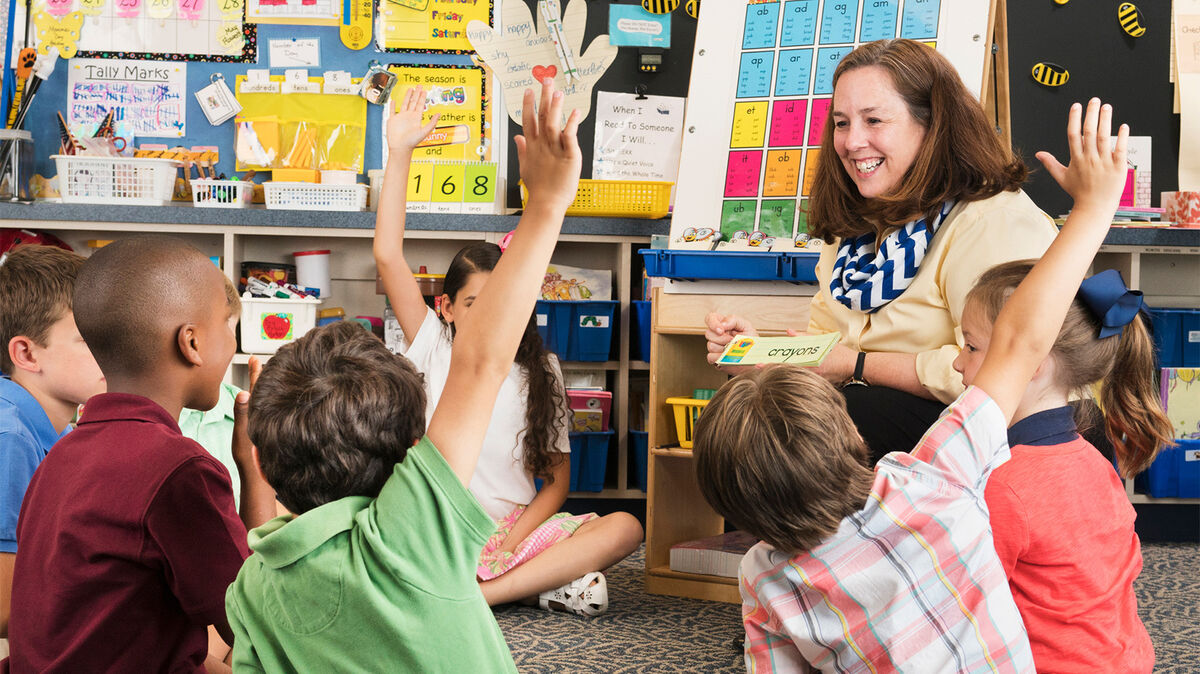 If you're a teacher or you have children who are learning to read, you know that there is a list of sight words they should know by the end of kindergarten. But how can young readers practice these words besides reading them from a list? Take a look at these sight word phrases and sentences that you can work into your reading lessons and activities, along with a helpful printable for extra practice.
Sample Sight Word Phrases
Use a collection of Dolch and Fry sight words that are commonly found in children's literature for your phrases. They are listed in order of skill level below, so start with the phrases at the top of this list and move down as student skill increases. You can mix and match these phrases for a reading assessment or review.
Sight Word Phrases for Beginners
Beginning readers who are tired of flashcards and reading lists might enjoy more entertaining phrases. Try out these short phrases to get kindergartners and first graders to read sight words more fluently. They include both Dolch phrases and Fry words, including Dolch nouns.

a blue bear
go eat bread
funny kitty runs
will you write
find her there
up and over
come down here
baby chicken egg
my mom is there
pretty please
three yellow toys
number two
cows may jump
his right hand
the only robin
look at me
write it together
little flower girl
give the box
my cat said
Sight Word Phrases for Upper Grades
Once readers can get through the phrases above, you can try out longer phrases. These sets of words include more parts of speech, including nouns, adjectives and verbs, from higher grade levels. Try them out in a reading lesson or vocabulary check.
thank those farmers
about their money
every funny brother
my birthday cake
goodbye garden flowers
pick seven letters
green house could work
write small sentences
great large picture
our mother's name
big brown squirrel
near a white window
plant seeds often
mountains without sun
children walk together
sometimes it's late
important groups grow
stop before today
wish for chicken farm
upon your word
Sample Sight Word Sentences
Studying Dolch sight words in phrases is one of the first steps beyond learning the individual words themselves. From there, students can start putting them together to build simple Dolch sight word sentences. Use these sentences for students who are able to move past simple phrases.
Sight Word Sentences For Beginners
Use these sentences on the first day of school to see what kindergartners and first graders can already read. For parents, these sentences are a great way to improve reading at home.
The car will go up the hill.
I can walk outside.
You have two feet.
Birds can fly well.
It is cold in the water.
The girl eats lunch.
You should stop now.
A duck jumps on the bed.
People write what you say.
It was a long day.
The boy called the sheep.
Make white bread, please.
It rains and snows.
Black rabbits jump away.
Good morning, and father.
I ate an egg.
This horse drinks water.
Hand part of your paper to me.
Watch the bird's nest.
The boat has a bell.
Sight Word Sentences For Older Grades
Students in higher grades may not have learned all the sight words on the Dolch and Fry lists. Have them read these sentences to see which words you should focus on in class or for practice at home.
Your sister is always around when we draw.
Eight children fell down the hill into the garden.
Santa Claus comes at Christmas to bring gifts.
Wash your shoes in hot water.
My brother is too young to run a mile.
I don't have enough money for this car.
Write your letter before you go to sleep.
Please put something in the sentence.
Her sister draws a pretty picture of trees and mountains.
I clean the eggs before I cut the bread.
Your kind laugh makes me happy.
Start carrying paper to the white car.
Being a good example is an important idea.
My eyes are part of my face.
Did you eat enough?
Help me read these sentences.
The men found a hurt animal.
My family lives in the country.
The robins sing in the warm mountain morning.
Try to get out of the street.
Sight Word Phrases and Sentences Printable
If you'd like easier access to phrases and sentences that include common sight words, check out a handy classroom resource. Download and print the reference sheet below for small class groups or extra practice at home.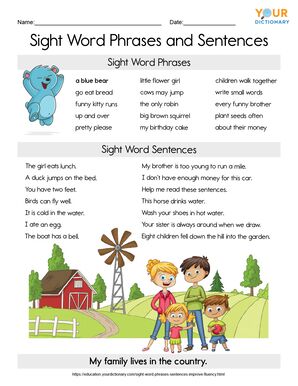 What Are Dolch Sight Words?
Named after Edward William Dolch, a professor from the University of Illinois, the Dolch word list from the 1930s contains some of the most frequently used words in the English language. They're commonly referred to as Dolch sight words. Some Dolch words do not follow conventional phonetic rules, so it is imperative that children commit these words to memory.
The best way to get a firm grasp on this extensive list — the Dolch word list consists of 220 service words and 95 nouns — is to use a variety of Dolch sight words in phrases. This can encourage a student to recognize and retain the words, and they can get started even in pre-kindergarten. They should have memorized all the Dolch sight words by fifth grade.
What Are Fry Sight Words?
Dr. Edward Fry expanded the Dolch sight word list in the 1950s and again in the 1980s to include words that young readers are likely to see in older grades. Students who can read the 1000 words on the Fry sight word list are likely to become fluent readers later in life.
Unlike Dolch sight words, which are grouped by age group, Fry sight words are grouped by order of frequency. Fry recommended focusing on groups of 100 in order to ensure mastery. Several of the words on Fry's list are commonly misspelled sight words, making them a great addition to a spelling lesson.
Reading is a fundamental learning process, and in order to be successful in any endeavor, a student needs to be able to grasp these sight words early on. Without a cognitive understanding of how to recognize and use the sight words in sentences and phrases, a student may be missing out on the most crucial building block of the learning process.