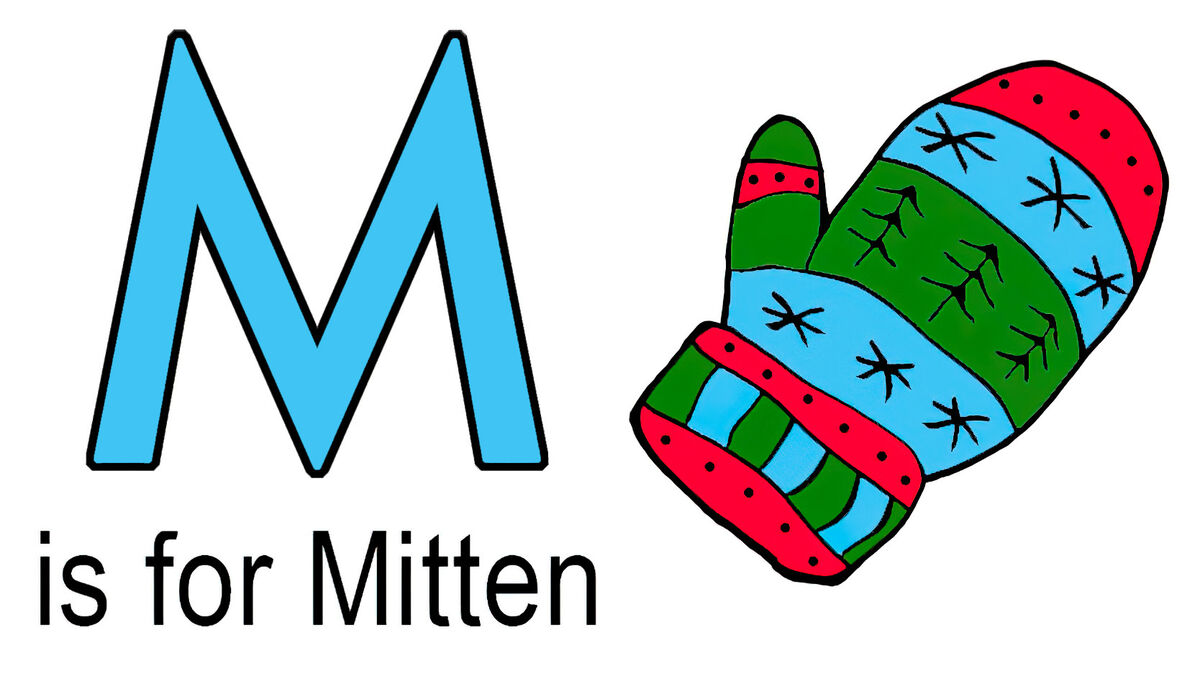 The sound of the letter M is often the first intentional sound a child makes. Teaching M words for kids is vital to help children define that almost instinctive sound as a part of spoken and written language. These lists of M words for kindergarten and elementary school students will help learners build a strong vocabulary of terms that begin with this letter. Use them to boost kids' language learning.
Preschool Words That Start With M
Since M is a simple, fundamental sound for preschoolers to master, focus on words that will help them identify the letter M. Include terms that can be clearly conveyed with visual images and other words that young children will recognize. The words listed below are great options to include in a pre-k lesson plan for sight words.
| | |
| --- | --- |
| make | man |
| mark | mask |
| match | math |
| me | melon |
| meow | milk |
| mom | monkey |
| moon | more |
| mouse | mouth |
| move | mule |
| music | my |
Pre-K Writing Activity Worksheet: Printing the Letter M
It's really important for preschoolers to perfect their printing skills. While you're focusing on vocabulary words that start with M, set aside some time for them to practice writing the letter. Use this printable "trace the letter" activity with that in mind.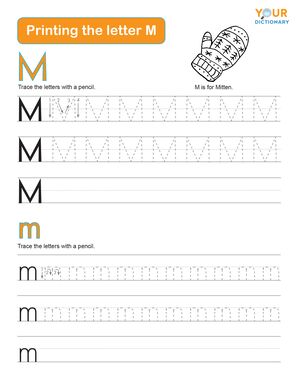 Kindergarten Words That Start With M
M words for kindergarten express simple, fundamental concepts appropriate for students to learn prior to entering 1st grade. The key at this grade level is to link the words to clear, concrete images and concepts. These will form the foundation of future linguistic development.
Printable Activity: Connecting M Words to Pictures
It's important for young learners to develop a feel for the language. Having vivid images to refer back to as they learn to read is vital. In the printable worksheet below, kids will draw a line to match pictures with the word they illustrate. Reinforce this visual lesson by encouraging students to color the pictures so the completed worksheet is uniquely theirs.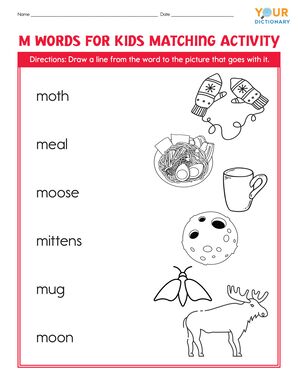 Early Elementary: Vocabulary Words Beginning With M
Early elementary school is when literacy education begins in earnest, including Dolch sight words and beyond. This list of M words is designed to reinforce and expand first and second graders' language arts skills.
Storytelling Activity for M Words
With any luck, your students will already be getting mail and knowing what it means to mend an item of clothing. Rather than any elaborate activity, simply challenge your students to pick a vocabulary word and share a moment when they've used or encountered it. That real, concrete connection is vital to helping a student comprehend and remember a word.
Combine art class with a vocabulary lesson by assigning students to make their own flashcards. Pass out index cards or small pieces of cardstock, along with markers or crayons. Have students write selected words on one side, then instruct them to decorate the other side with a drawing that will help them remember what the word means.
Upper Elementary: Vocabulary Words Starting With M
From 3rd through 5th grade, vocabulary words should engage students with the context and larger significance of language arts. At this level, vocabulary work should be more than a memorization exercise. It should be a gateway to lifelong literacy.
Writing Activity for M Words
Many of these M words for kids words are great prompts for creative writing. It's important to identify the degree of comfort your students have with the written word. Pick words and encourage them to write stories about them.
For a student who's struggling, you might provide a picture of a mesa and prompt them to write about a camping holiday atop it.
For one who is progressing well, you might simply give them the prompt of "a story with an important message."
Play Charades With M Words
Several of these words may not be immediately familiar to your students. Make use of that fact. Many of these words are suited to acting-out games. Play charades with your kids; they choose a word, then act out what they think it means.
From Mmm to M Words for Kids
The letter M is as simple as vocal sounds get. It's little more than an expressed breath with the lips closed. Children make it early in development, and much "babbling" consists of M noises. Vocabulary lessons like this are vital for kids to make the all-important shift from making noise to making meaning.
Match your students' skill levels with more must-see M words. WordFinder's list of words that start with M builds on the existing lists above. It also allows users to search the extensive lists by word length and desired letters to cut your planning down most magnanimously! For more enriching vocabulary in alphabetical order, move on to words that start with N for kids. Dive deep into the list to discuss and discover an ever-expanding vocabulary.