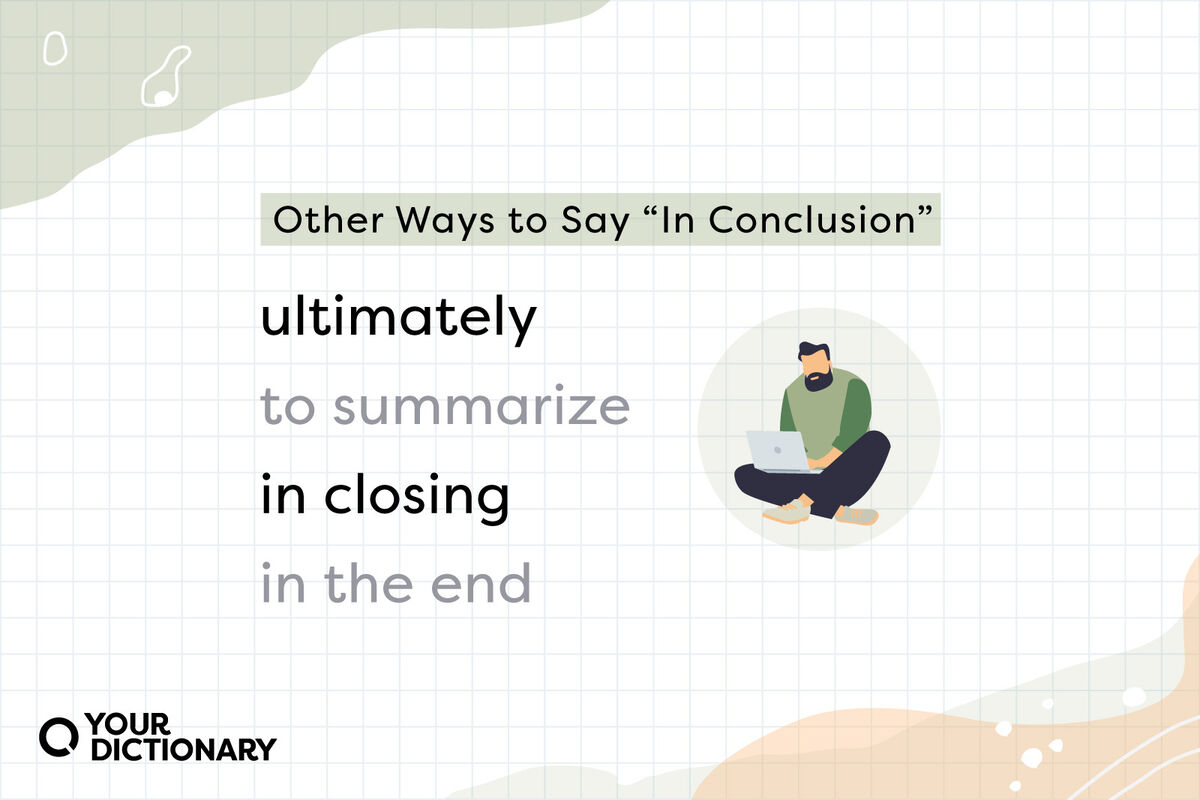 It can be hard to know how to bring an essay paper to a close. While you could simply use the phrase "in conclusion," that's not the most creative or engaging option. Fortunately, there are plenty of other ways to say in conclusion. Choose one of these catchy conclusion phrases or words to provide a strong way to end your paper.
Single Words to Replace 'In Conclusion'
While many of the other ways to say in conclusion are phrases, there are some single-word options. Consider one of these other words for in conclusion as a strong option for bringing your paper to an end.
altogether,
briefly,
categorically,
chiefly,
finally,
largely,
lastly,
mostly,
next,
now,
overall,
predominantly,
primarily,
ultimately,
Double Word Alternatives to 'In Conclusion'
The phrase "in conclusion" has two words, so you may find that another phrase of the same length is the perfect fit for your writing needs. Will one of the options below provide you with another way to say in conclusion in your next essay writing assignment?
altogether now,
as indicated,
bluntly stated,
in brief,
in closing,
in essence,
in general,
in short,
in summary,
in summation,
most importantly,
to end,
to conclude,
to summarize,
to surmise,
upon consideration,
upon investigation,
upon reflection,
upon review,
Triple Word Ways to Say 'In Conclusion'
If one of the above options doesn't meet your needs, you may find one of the three-word transition phrases below to be more suited to your paper.
all in all,
all things considered,
as a result,
as a rule,
by and by,
by and large,
in a nutshell,
in the main,
in other words,
in the end,
lest we forget,
on the whole,
so it seems,
upon further analysis,
upon further review,
without further ado,
4+ Word Ways to Say 'In Conclusion'
If a three-word transition phrase isn't long enough to signal readers that your paper is coming to an end, consider one of these longer phrases. Each of these other ways to say in conclusion has at least four words.
after all is said and done,
as you can see,
at the end of the day,
considering all of the facts,
for the most part,
in light of these facts,
in the final analysis,
last but not least,
now that we've reached the end,
taking all of this into account,
to bring things to a close,
to bring things together,
to sum things up,
to wrap things up,
to come to the point,
to wind things up,
upon analyzing the facts,
while further study is warranted,
with this in mind,
what really matters is,
Printable List of Alternatives to 'In Conclusion'
For a shorter visual list of other ways to say in conclusion, print or save the list below. You'll have quick access to alternatives any time you need them.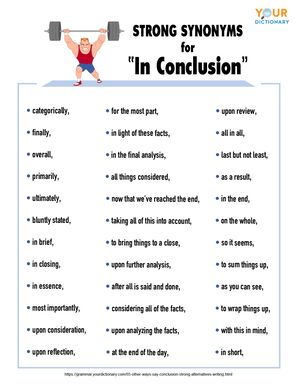 Write a Strong Conclusion for Your Paper
There's no reason to stick with the same old transition phrase to end your next essay. Instead, now you have plenty of catchy conclusion phrases to consider. Expand your options even further by reviewing more good conclusion starters for final paragraphs. Then, take a look at these strong ending examples for inspiration on how to bring your essay or paper to a close.