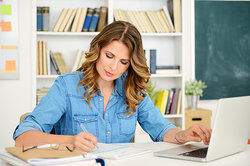 If you are a teacher then you might benefit from a few tips for writing lesson plans. While there is a standard format, there is no wrong way to set aside your lesson plans. There are an array of tips for writing lesson plans available on the Internet. It just depends on the types of tips for writing activity/lesson plans for which you are looking.
A lesson plan is more or less like an outline that gives an overview of a proposed lesson. From inception to conclusion the lesson plan gives the teacher a guided tour of how to approach a lesson and what activities should be done at each interval.
In short, it is a step-by-step process by which a teacher can ensure that his or her students are learning, all that is necessary on the proposed topic. For example, let's say (for the sake of illustration) that you have prepared a lesson plan on the Civil War. In effect, your lesson plan should guide students on a proposed idea or theory relative to the Civil War.
Once again, for the sake of example, let's say that you want to convey the notion that the Civil War was more about economic power than anything else. If you have this thought in mind and know that you want to convey it as a lesson then you will prepare an outline to better illustrate your lesson. This outline is the lesson plan.
Here are a few quick tips on writing an effective lesson plan.
Decide what lesson you want to convey. What topic do you want to teach and why would your students benefit from it? Determine how you plan to teach this topic and how long will it take to convey the lesson.
Review the state standards that surround your topic and align your lessons goals with those standards in order to show how this topic is a necessity for students to learn. Additionally, the state standards are usually what is considered required learning for your students so you definitely want to align your topic those standards.
Develop objectives so that your lesson plan conveys the exact lesson or activity that you want it to convey. Some of your objectives can also serve as goals and outcomes of the proposed lesson. Your objectives should:
Be clear, concise, straightforward
Completely aligned with the state standards on the topic
Clearly state what learning outcomes are expected of the students.
For example, if you are teaching a lesson on the Civil War one of your objectives would be "students will learn why the Civil War started."
Be clear on the materials that you may need. Whether you have a budget for the materials or not, you will still need to be clear on conveying the necessary materials that your teaching lesson may require. Will students need certain text books or maps?
Additionally, you should be as specific as possible regarding what a teacher will need to have. Are there any particular worksheets or handouts that go with that lesson? If so, is there an answer key provided for the teacher and where can these items be found.
Will audio/visual materials be used? Is a VCR or DVD player a necessity? These are all questions that you should have in the back of your mind.
Write your procedures. You will need to do this by writing your plans on a step-by-step basis. You will list your necessary materials, objectives, subject and grade level, then voila! Your activity/lesson plan will be complete. YourDictionary has created the lesson plan template shown above for your use as a starting point for writing your plans.