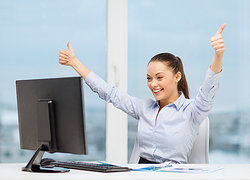 Student Using the YourDictionary Grammar Tools
At YourDictionary we believe that information is power. To build on your power to understand or teach English grammar we have many different types of grammar tools including:
Informative grammar articles - rules, tips and examples of grammar basics
Fun grammar infographics - graphics showing the grammar rules with tips and examples
Easy-to-use grammar charts - handy reference charts showing the various grammar options
Helpful grammar worksheets and quizzes - test your knowledge and check your answers
So, whether you are a student, parent or teacher, YourDictionary has the tools to make grammar easier to understand.
YourDictionary articles include information, infographics, charts, worksheets and quizzes which can be handy tools for learning and teaching grammar. To make your research and lesson planning easier we have listed links of some of these most popular tools.
To see all the grammar tools be sure to check the grammar, infographic, chart, worksheet, quiz and slideshow sections on YourDictionary.
YourDictionary Has Powerful Grammar Tools
YourDictionary grammar articles contain information on grammar rules, tips and examples. Articles include explanations of how to use parts of speech, punctuation, capitalization, sentence construction and spelling.
Some of the most popular articles include:
Once you found the article with the information you were looking for, be sure to search on YourDictionary for more information on the subject including examples articles with more ideas on how to use a particular element of grammar.
Infographics make it fun to learn grammar. They take the grammar rules and present them in a colorful graphic format.
YourDictionary has several fun infographics on grammar on popular subjects including:
All of the infographics on YourDictionary are .pdf files so you can easily print them for your use, either as a handout or a classroom chart.
A chart can be a powerful tool to learn or teach grammar. It can provide a comparison of different types or show grammatical variations of a specific word.
YourDictionary has an ever-growing collection of grammar charts which are presented as visual aids with grammar articles. Charts include:
All the above charts are .pdf files; so, they can be easily printed for your use, either as a handout or a classroom chart.
Grammar Worksheets and Quizzes
YourDictionary has lots of worksheets and quizzes to provide that extra power punch you need to learn or teach grammar. They are included as a part of an article as a .pdf file. The article includes the answers.
Some of the most popular grammar articles with worksheets include:
Some of the most popular quizzes include:
Many of the worksheets and quizzes are .pdf files and can be printed easily to use during study or as an activity in the classroom.
Slideshows are a fun way to visit specific grammar issues. Photos, helpful info and links back to more detailed info on YourDictionary combine to give you an easy way to learn or teach grammar.
Some of the more popular grammar slideshows include:
All of these grammar tools are designed to make learning easier. We are constantly adding to the YourDictionary grammar tool library. So, keep checking back to see what's new.